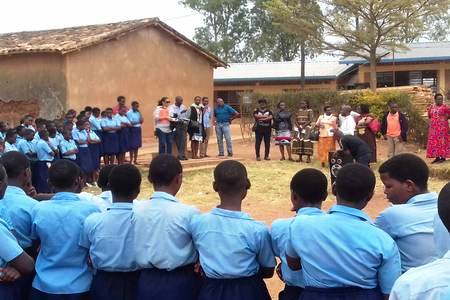 CARE USA AND CARE RWANDA VISIT YWCA'S SAFE SCHOOL FOR GIRLS PROJECT
Safe Schools for Girls (SS4G) project is being implemented by YWCA in partnership with CARE International with technical support of ARCT Ruhuka in mentorship in five districts of Southern Province. SS4G is a five- year Project funded by Patsy Collins Trust Fund Initiative through CARE USA. The project aims at achieving the long-term impact of : "Girls in low socio-economic status to pursue their education up to the higher institutions". The project seeks to empower girls to remain at school, complete lower secondary education, be able to transition to upper secondary education and to go higher in their academic trajectory. In order to make this happen, the project uses an integrated approach including mentorship, voluntary saving and loan methodology, school scorecard and "Engaged boys" to support girls' education to address socio-emotional and economic challenges faced by girls.
The SS4G project aims at achieving the long-term impact of Girls in low socio-economic status to pursue their education up to the higher institutions. But specifically the project aims at ;
o Reducing number of girls who drop out from school ;
o Increasing attendance and performance ;
o Increasing number of girls who transit from lower to upper secondary education.
It's against that background that a team from CARE Rwanda and YWCA Rwanda visited GS Bubaza on 26th July 2017 in order to monitor the progress of the project and its impact to project beneficiaries. The team was led by CARE Rwanda country director, senior technical advisor from CARE USA and the YWCA Rwanda Executive director. They were received by the head teacher of GS Bubaza Mr. UFITINEMA Eugene. He noted that the SS4G project has helped to reduce absenteeism among the students and a reduction in student dropout rates. Through the project, mentors have built trust and strong relationships with students during their mentorship sessions.
Nicole, a S.2 student in her words noted "Before I joined the clubs, I used to spend a lot of money buying biscuits and sweets but when I learnt the importance of saving, I started to reduce my spending habits and save more. I plan to buy a hen that will produce eggs and give me a small regular income that I will use to buy scholastic materials."
During the visit, the visitors witnessed the share out activity of the clubs and appreciated the commitment of the students to save. The team also met with mentors and the head teacher for a debriefing session. In her closing remarks, the CARE Country Director expressed her gratitude for the great work that was being done by YWCA and the partners. The senior technical advisor from CARE USA appreciated the work that was done and urged the project staff to continue working together with all stakeholders and document best practices and share lessons learnt with the wider community.