WHEN SANITARY PADS BECOME A DOUBLE-EDGED SWORD….
Before UWAMAHIRWE Joselyne, a 23-year participant gets enrolled in the Strengthening Child Protection and SRHR in Rwanda Project, she had no information about SRHR as this was a topic considered taboo in NYARUGURU Community.
In addition, given the very limited financial means, most of the vulnerable girls and women from that community don't value the use of "sanitary pads" during their menstruations. Rather, they opt for using rags.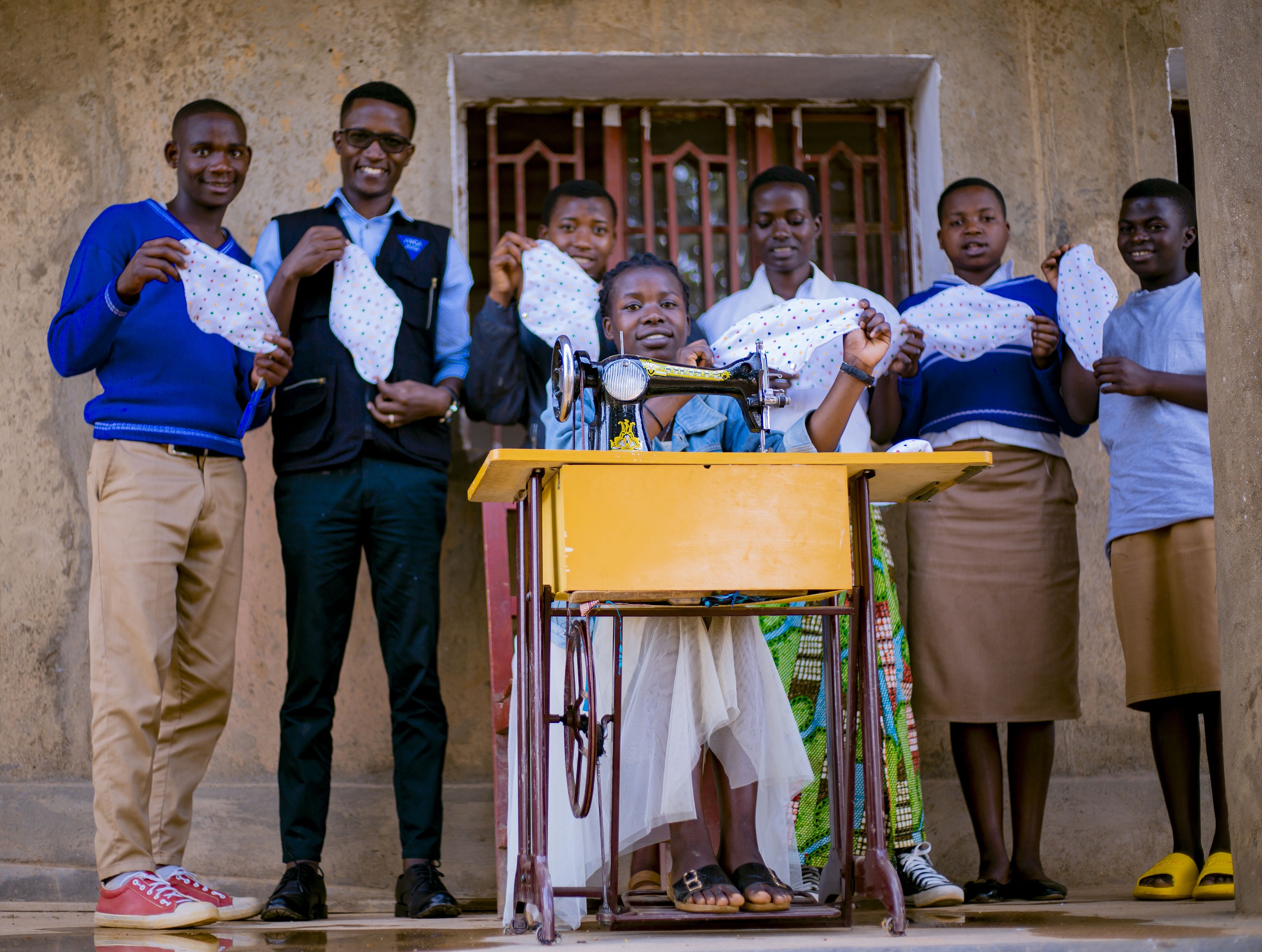 Joselyne and her friends used to face the same challenges. Fortuitously, in 2019 they got enrolled in the project. They started acquiring much knowledge on SRHR but, still, affording sanitary pads remained a big issue. Late in 2020, the project provided beneficiaries with washable sanitary pads.
This came in as a solution.
"…when most of our parents got fed up with providing us with sanitary pads it's where we started getting some washable pads from the project…they served not only for the health and hygiene purpose but also for environment protection..." said Joselyne
Every year, under the Strengthening Child Protection and SRHR in Rwanda Project, talent development competitions for youth are organized. They serve as a space for youth to bring forth innovative SRHR-related. The winning groups get awards that are finally monetized in a bid to accelerate and finance youth innovations.
For Joselyne and her group, their project consisted in producing washable pads made by imitating the ones that they got from the project.
She says "We dismantled two of those washable pads and we tried to puzzle out the key materials that made them up. We realized that, if we ever get those materials, we could make those pads too".
From that day, they took those dismantled materials to a tailor from a nearby precinct. He told them that he is able to reassemble them "…. the same day a nearby tailor told us that he can assemble the washable pads' pieces the same day we got the courage to move on with our project. This was a long-lasting solution to the surrounding communities of vulnerable girls and women but also, it should be our absolute source of income as a whole group". Said Joselyne
Currently, Joselyne and her group produce washable sanitary pads. They are envisioning having a sewing workshop that shall be producing pads and other clothing items at a very affordable price most specifically for vulnerable girls and women as Joselyne said.
"We sell one sanitary pad at 500 Rwandan Francs whilst the cost of a non-washable (used once) is 1000 Rwf. As you may see, using our pads help people to save money (as our pads can be used for one year or even beyond) but also protect the environment (as they are biodegradable)".

For the time being, Joselyne and her group are very thankful for the support got through this initiative, funded by the Swedish International Development Cooperation Agency and implemented by YWCA Rwanda through Plan International Rwanda.
Currently, the Strengthening Child Protection and SRHR in Rwanda Project is benefiting 2,280 participants from NYARUGURU, 1500 from BUGESERA, and 1800 from GATSIBO District. It seeks to address specific barriers to the realization of children and youth's full potential through a multi-stakeholder and child rights-based approach.